inFAMOUS 2 has lots of different pre-order bonuses, as well as a special Hero Edition available.
inFAMOUS 2 is the latest game to torment customers by offering pre-order bonuses that are exclusive to particular stores.
Pre-order from Walmart and you'll get yourself the Electrocution Grenade power. Cole can use the Electrocution Grenade to shock nearby enemies with electricity that ties them down for a couple of seconds before detonating.
Pre-order from Gamestop and the Lightning Hook power is yours. Use the Lightning Hook to snare and pull enemies and objects towards Cole.
Pre-order from Amazon and you can arm yourself with a 24K Gold Amp. It's… gold.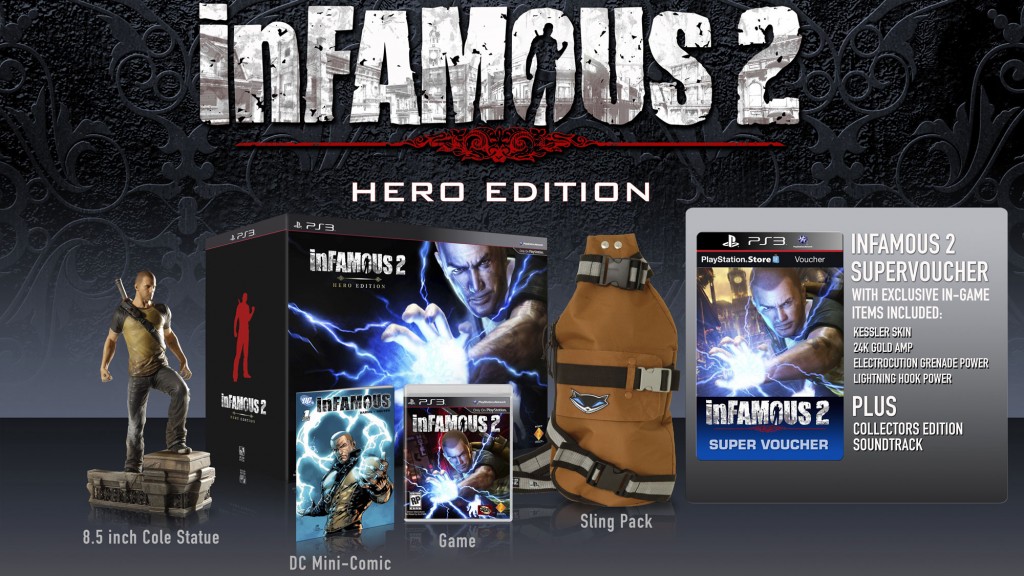 OR, if you're a greedy little power-monger, you can get yourself the Hero Edition which delivers all three pre-order bonuses along with lots of other goodies like these:
8.5″ Cole MacGrath statue
full size replica of Cole's Sling Pack
first issue of the DC Comics inFAMOUS comic with variant cover

Powers

Electrocution Grenade power
Lightning Hook power

Skins

Four Amp variants

24K Gold Amp
Sly's Cane
Caveman Club
Samurai Sword

the inFAMOUS 2 Red soundtrack
[amazon-product alink="0000FF" bordercolor="000000″ height="240″]B002I0GX88[/amazon-product]