The Fighter is a better, more realistic underdog story than Rocky.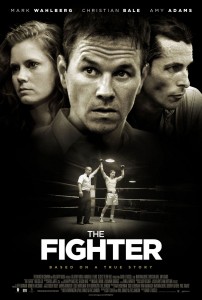 Directed by: David O. Russell
Starring: Mark Wahlberg, Christian Bale, Amy Adams
Rating: R
Genre: Biography / Drama / Sport
[audio:https://www.podtrac.com/pts/redirect.mp3/www.thegeekgeneration.com/podcast/reviews/movies/movie-review-the-fighter.mp3]
Let me start off this review by stating that I may have a slight bias towards The Fighter, because a few summers ago my brother and I ventured up to the Tsongas Arena in Lowell, MA and spent the day on the set, serving as crowd extras for some of the fight scenes in the movie. As two movie buffs, this was an amazing experience for the both of us. For me personally, I was even more excited to see two of my favorite actors (Bale and Wahlberg) doing what they do best right in front of my eyes.
The Fighter is based on the true story of "Irish" Mickey Ward (Wahlberg), a boxer from Lowell, MA who wants to be just like his older brother and hero Dicky Eklund (Bale). Dicky, the "Pride of Lowell", once stepped into the ring and went toe-to-toe with the great "Sugar" Ray Leonard. Dicky begins to train Mickey before falling into a world of drugs and crime. Mickey's manager and mother has her eye on the prize and sees Mickey as more of a money-maker than a son. The family dynamic is rocked when Mickey meets bartender Charlene Fleming (Adams) and starts to see his destructive family from another point of view.
The film as a whole has a very gritty and realistic look. Many of the fight scenes appear more raw than what normally appears in a movie as they were actually filmed using television cameras to recreate the look and feel of the original fights. I'm no boxing expert, but it appears that adequate attention was paid to the fights and how they were played out. My one complaint was that the final fight of the movie could have been drawn out slightly more to make it feel more climactic. Although, that could be my bias showing through again, as watching it on the big screen flashed me back to the day of filming where I watched the final scene play out a good 8 or 9 times in a row.
The performances are all spectacular. Mark Wahlberg brings the usual dynamic and physicality you would expect from him. Amy Adams continues her maturing of roles that began in Sunshine Cleaning and further justifies her spot on 2010's list of Hollywood Hotties. The real standout here that will no doubt get an Oscar nomination for best supporting actor (despite having nearly as much screen time as Wahlberg) is Christian Bale. Bale's performance in the role of Mickey's crack-addicted half-brother continues to show the diversity of characters that he's capable of. I have yet to see a role that Bale can't master and I'd love to see him earn that recognition for a movie that I was a part of, even if that involvement was a ridiculously small part.
Bottom Line: The Fighter is a better, more realistic underdog story than Rocky.
[xrr rating=9/10]