I wanted to like it more than I did. You'll get a few laughs, but only if you can work through the frustration.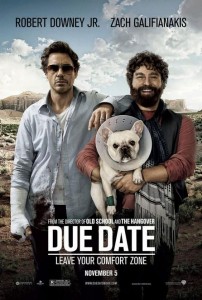 Directed by: Todd Phillips
Starring: Robert Downey Jr., Zach Galifianakis, Michelle Monaghan
Rating: R
Genre: Comedy
Due Date brings to the screen the odd pairing of "actor supreme" Robert Downey Jr. and "Hollywood's current comedy IT-boy" Zach Galifianakis. The premise: Peter Highman (RDJ) is an expecting father that bumps into, literally, aspiring actor Ethan Tremblay (Galifianakis) at an airport as both men are preparing to fly to Los Angeles. While Ethan has hopes of making it big in Hollywood, Peter is rushing home to be present for the birth of his child. As the result of a plane mishap and a lost wallet, both men are put on the "no-fly" list and must ride together in hopes of getting to LA in time.
When creating an odd couple type comedy as Due Date clearly is, it's important to have a strong chemistry between the involved actors. That chemistry is just not as strong as it should have been here. Even from the initial release of the trailers, I got the feeling that this movie was largely a chance for the studio to capitalize on two actors at the height of their respective careers. Both actors are amazing at what they do and their performances showcase their talents, but ultimately the story and situations placed behind them combined with the lack of on-screen chemistry lead the movie down a disappointing path.
The story itself is basically the tale of the comedic and idiotic bumbler who constantly defuses any hopes and plans of the high-strung, no-nonsense straight man. It's a formula that's been used before, but in the past it's been executed more successfully. Yes, there were funny moments in which I found myself laughing out loud, but overall it felt very much like any Ben Stiller movie does. I ended up feeling so bad for Peter who just wanted to see his kid born, that I became too frustrated to find the funny moments as humorous as they could have been.
As most movies that deal with this type of dynamic need to do, we're given brief moments looking into the sadness that accompanies Ethan Tremblay. This sympathy is the only reason the audience will tolerate his character instead of constantly wishing Peter would hurl him out of the moving vehicle. There are some moments where this sympathy feels justified, but as the movie progresses, Peter's acceptance of Ethan feels very forced and unbelievable. His character basically pulls a 180 after a heroic act that doesn't feel in character or logical in any way whatsoever.
Bottom Line: I wanted to like it more than I did. You'll get a few laughs, but only if you can work through the frustration.
[xrr rating=5/10]