Tom Welling gave up some information about Smallville's future in an interview at The CW upfronts.
We've had lots of Smallville news over the past few days and today is no exception.
First, Allison Mack (Chloe Sullivan) told Entertainment Weekly that while she won't be part of the regular cast in season 10, she won't completely disappear and leave her fans hanging:
It's amazing to think that Chloe Sullivan and I have been one in the same for over a third of my life," says Mack in a statement. "I'm truly humbled by the love and loyalty of all the fans whose enthusiasm has carried me – along with a cast and crew which has become my second family – over the past 9 and a half years. Out of respect for the amazingly loyal fans and the place I will always have in my own heart for Chloe, I'm coming back for several episodes next season to tie up Chloe's 'Smallville' legacy properly. It's been a life-changing ride,and I look forward to what lies ahead with the strength of a 'superhero' as my foundation.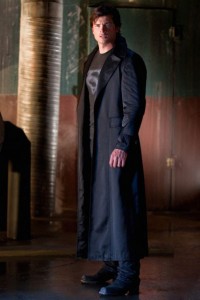 In a Q&A with the New York Post at the CW upfronts this morning, Tom Welling (Clark Kent) gave up some information on Smallville's future as well as his hopes and dreams for season 10. Welling suggested that if enough people continued to watch the "final" season, there's a chance that the show could go into an eleventh year. "We've lasted this long because of the fans, who knows, if enough people watch this year … eleven sounds pretty good too!" He also confirmed Mack's limited role for the upcoming season.
Tom went on to address Smallville's longest lastest rule, the infamous "no tights/no flights." When asked about the costume possibly making an appearance (especially after the season finale), he had this to say, "I think there's always a possibility of that. For me, one of the reasons I've felt like the show has been so great is because it follows Clark's journey into becoming Superman. So if that happens, it will be very late in the season – even possibly the very last thing you see on 'Smallville.'"
When asked about returning cast members from Smallville's past, Welling was very hopeful and confident that we'd see some familiar faces:
I'd love to see Annette [O' Toole, plays Martha Kent] back more, Michael McKean [Perry White], John Schneider [Jonathan Kent] – all these guys. They're all part of the family!
UPDATE: At the same event, Tom Welling confirmed to IGN that the elderly woman in the season finale IS indeed Granny Goodness!! (Thanks Bryan)