New cartoon shorts will hit theaters soon leading up to a new 'Looney Tunes' series on Cartoon Network this fall.
Road Runner and Wile E. Coyote, two of the most popular Looney Tunes characters of all time, are returning to the big screen in three all-new animated 3D shorts. The studio will attach the cartoon shorts to three of its upcoming family features—all three features to be released this year in 3D. The first short will be seen with Cats & Dogs: The Revenge of Kitty Galore on July 30th; the second with Legend of the Guardians: The Owls of Ga'Hoole, on September 24th; and the third with Yogi Bear, on December 17th. The announcement was made by Dan Fellman, Warner Bros. Pictures President of Domestic Distribution.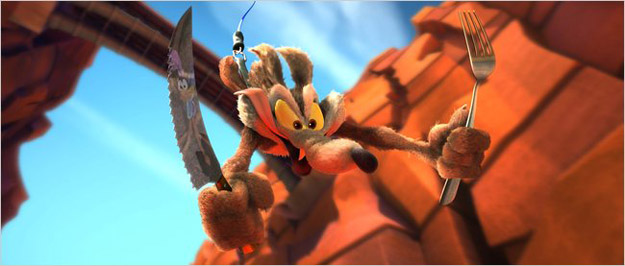 In the new cartoon shorts, each three minutes in length, Wile E. Coyote is as determined as ever to catch the elusive Road Runner, who continues to leave his hapless nemesis in the dust with a taunting "beep-beep." However, bringing the classic characters into the 21st century, the resourceful Wile E. will now be employing an arsenal of state-of-the-art ACME gadgets to snag his quarry—with all of the action in stereographic 3D.
In making the announcement, Fellman said, "Audiences have always delighted in Wile E. Coyote's dogged pursuit of the Road Runner, with hilarious, albeit predictable, results. We are thrilled to be presenting these characters for the first time in 3D, which will heighten the excitement and humor of the chase, not to mention the impact—at least for Wile E. We're sure these three new adventures will entertain a new generation of fans while reminding us all why these two characters have been beloved for so long."
The shorts will act as a lead-up to a new 26-episode half-hour series called The Looney Tunes Show, which will air on Cartoon Network this fall featuring Bugs Bunny and Daffy Duck as roommates with the other classic Looney Tunes cartoon characters as their neighbors.