Columbia Pictures may need to go ahead with filming a sequel to 'Ghost Rider' without Nicolas Cage.
Source: Vulture
According to a report by Vulture, Columbia Pictures may need to go ahead with filming a sequel to Ghost Rider without Nicolas Cage.
How badly does Columbia need to get the motor running on its Ghost Rider sequel? So badly that if Nicolas Cage can't commit to making it this year, they may have to make it without him. Insiders confirm to Vulture that Columbia is facing a ticking clock on the rights to the BBQ-skulled Marvel Comics character: Legally, if the studio isn't in production on a sequel by November 14, 2010, the franchise automatically reverts to Marvel — which means the comic company's new owner, Disney.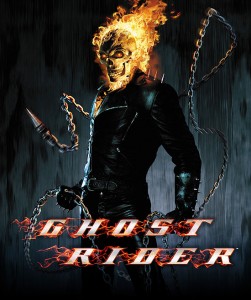 The problem the studio is running into is that Nicolas Cage could be tied up filming National Treasure 3 starting this fall. Despite his love of the character and desire to continue the role, the third installment of Jerry Bruckheimer's treasure-hunting series would no doubt garner Cage a much larger paycheck than that of a sequel to Ghost Rider.
Columbia (which would not comment on this story) desperately needs a blockbuster for 2011, now that Spider-Man has been pushed to 2012 — not to mention that no exec wants to lose a moneymaking franchise to a rival studio. We hear that FlashForward writers Scott Gimple and Seth Hoffman, overseen by their show's creator (and Batman Begins scribe), David S. Goyer, have just turned in a draft of a GR2 script, which Columbia will bring to a still-evolving list of potential directors. (Earlier this year, producer Mike De Luca told Collider that the original film's director, Daredevil besmircher Mark Steven Johnson, will not be handling the sequel.)
There's an argument that the franchise wouldn't survive without Cage because he's more well-known than the character. I don't agree. They've already made the wise decision to replace the director, and having Goyer mentioned in the same phrase as script is rarely a bad thing. At this point, a no name or lesser known actor may actually be beneficial to the franchise. I think all the public really needs is to see that flaming skull on a poster and they'll be buying a ticket.