To quote what seems to be a common description for things nowadays: "Hot Tub Time Machine? It is what it is."
[gravatar email="robv@thegeekgeneration.com" align="left" size="40″ border="2″] Editor's note: While I've already posted my review of Hot Tub Time Machine, we have many writers who contribute to The Geek Generation and each is allowed their own opinion and voice. For that reason you may often see reviews of the same item from different people. This is one of those times. Let the battle of differing opinions begin!!
Article by Justin Allen
Writing for The Geek Generation finally paid off tonight as a group of us writers attended a special screening of Hot Tub Time Machine, a comedy about four men's misadventures as their weekend getaway takes them far away from their troubles…about 25 years away…and creates a whole new set of problems. Like Snakes On A Plane, with a title like Hot Tub Time Machine, you know what you're going to get. As long as you keep that in mind, you may just enjoy yourself.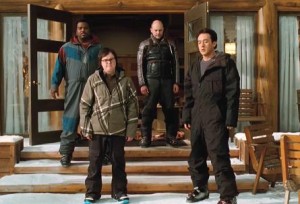 Three estranged friends and a nephew find themselves on a weekend ski trip to rekindle their friendship after one of them ends up in the hospital after a night of drinking almost puts him in the morgue. Going back to the ski resort where they used to party as teenagers seems like the perfect fix for injecting some life into their miserable lives. When their suite's outdoor hot tub malfunctions and transports them back to 1986, they have to relive their epic Winterfest '86 weekend all over again, being careful to relive each moment exactly as it happened so as not to change the space-time continuum. They don't have to worry about running into their old selves, as they ARE their old selves, complete with their old wardrobe and hairstyles. They believe they have to still lose the same fights they lost before, sleep with the same chicks they slept with before, all to preserve a future they don't necessarily like, so they start taking liberties with their pasts. Some hilarity ensues, some does not, as is the case with most of this movie. Without giving the ending away (which I actually really liked), choices are made, friendships are reforged, and hot tub time travel will never be the same.
If the script seems amateurish, it's because it is: Josh Heald, John Morris, and Sean Anders have never written more than a couple of amateurish comedies together (Sex Drive, She's Out of My League), and if the overall production feels weak, it's because it is: Steve Pink's directed one movie before, the college slacker comedy Accepted. Never heard of it? Don't feel bad: I had to look it up, too. The only credibility this movie has is John Cusack. While Rob Corddry (Old School, I Now Pronounce You Chuck and Larry), Craig Robinson (TV's The Office), and Clark Duke (TV's Greek) have all had marginal success, Cusack is certainly the star. I'm amazed he's even in this movie, as it seems a far cry from his great work in Grosse Pointe Blank and High Fidelity. The real bright spot of this movie actually comes from the most unlikely of places. At first, present day Crispin Glover's role as a one-armed bellhop had me awkwardly laughing as he struggled with the guests' bags; but his 1986 character has both, and so the time and manner with which he loses his arm becomes a driving force of comedy throughout the film.
If you've seen the red band trailer for Hot Tub Time Machine, you've seen the best and funniest moments of the movie. Most of it was flat, and overly vulgar for the sake of being vulgar. To the writers: you can't cover up wit with vulgarity, and this movie tends to rely too heavily on the latter.
To quote what seems to be a common description for things nowadays:  "Hot Tub Time Machine? It is what it is."
[xrr rating=5/10]