Alexis Bledel said in a recent interview that she was open to the idea of a Gilmore Girls movie.
I know what you're thinking. Why is there an article about the Gilmore Girls on a geek site? Despite what it may do to my "geek-cred", I'm a huge fan of the Gilmore Girls TV series. We all have our guilty pleasures, and I'm sure if I dug around enough, I'd find something that could be just as damaging to your reputation. That aside, I'm proud to be a fan and this is my site, so deal with it. Not to mention, if you're reading this right now, then you are just as guilty for being interested and clicking the link to bring you here, so BUSTED. On with the news…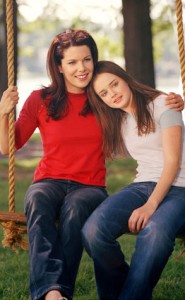 In a recent interview with Marc Malkin of E! Online, Alexis Bledel, who played Rory on the show, said she was open to the idea of a Gilmore Girls movie.
"I don't know what story is left to tell," Bledel, now 28 told me yesterday during a chat at the Four Seasons Hotel. "But I'd be very curious to read a script."

Wouldn't Rory be a mother by now?

"Oh my god—a baby bump! Could you imagine," Bledel said with a laugh. "I actually always thought they were going to do that in the series. Since Lorelai got pregnant early, I thought my character was supposed to get pregnant early because she had all these boyfriends. Rory always had boyfriends."
While it's not necessarily confirmation of a movie moving forward, it's nice to know that it's a possibility in the eyes of a major cast member. With the final season being cut short, I feel like we're owed the tying up of some loose ends.