Dota 2 streamers keep adding in numbers every day, but here's some of the best and most famous Dota 2 streamers you should know.
The following post was provided by a sponsor.
Dota 2 is one of the most played online video games. The multiplayer online battle video game has been a magnet to many players for over a decade now. Valve has made the game way more enjoyable by helping players transition smoothly from Dota to Dota 2. Over time the game has gained so many fans who swear by it. Die-hard fans of Dota 2 stream the game daily to follow what is happening.
It is by default that the game is loved and enjoyed by people from different places. Watching some of the kings of the game playing is a peculiar feeling for any fan out there. With different streaming platforms showing the game daily, Dota 2 streamers keep adding in numbers every day. Mentioning all the streamers is nearly impossible, but this article narrows down to some of the best and most famous Dota 2 streamers you should know. So here is the list; let's get started.
Dendi
Danil Ishutin, famously known as Dendi, is an all-great and incredible Dota 2 player. Dendi, the professional player, has been known by fans since his back olden and golden days when he spent his time playing for Natus Vincere. He was part and parcel of the team that took home The International title in 2011.
The professional player is nowadays a streamer, streaming his content on Twitch. Among the content that Dendi streams are Dota 2 fun and great games, including other types of gaming content. As a streamer, Dendi is followed by most people, and most of his fan base considers him one of the top and best Dota 2 players and streamers.
AdmiralBulldog
AdmiralBulldog, also known as Henrik Ahnberg, is a Swedish Dota 2 streamer and formerly a professional Dota 2 player. He is one of Dota 2's most popular streamers. AdmiralBulldog is also a co-founder of Alliance, and he streams content for the Alliance team. During his days as a player in the Esport industry, AdmiralBulldog won so many Dota 2 tournaments and ranked number seventy-four worldwide. Aside from his glittering and successful career as a player, Henrik has been channeling his energy and focus on streaming nowadays.
He streams a variety of games, but Dota 2 remains his major streaming game. His fan base ranges from 5000 to 25000, which shows that people love and enjoy his content. He spends some of his time chatting with fans mostly about content surrounding gaming, the esports world. The stream also has a points system and you can earn those points by purchasing them, watching streams, or placing a bet on Dota 2 games.
Singing
Also known as Wehsing Yuen, Singing is a professional player that started playing Multiplayer Battle Arena while they were still in the early stages of making. Singing is a force to reckon with in the esports gaming industry. He is a knowledgeable and professional former Dota 2 player who nowadays has all his eggs in one basket, which is game streaming. He is now committed to streaming on a full-time basis and has a wide selection of the games he streams.
Dota 2 is Singing's main streaming game but still gives other games his time of the day. He is a sarcastic, funniest Dota 2 streamer, and his humor draws in more fans each day. Despite starting with trolls-filled content early on in his streaming career path, Singing has gained die-hard fans over time with his content. His attributes and personality make him one of the sensational and top Dota 2 streamers.
Wagamama
Wagamama is a veteran in the Esport gaming world. Wagamama, also known as Niklas, has been a Dota 2 player for quite a while before diving into streaming. He is well known as one of the longstanding streamers in the industry. One of the impressive things Wagamama fans love is his analytical and insightful commentary in his stream. Some of the content he streams is meant to help amateur players understand the game better and improve their gaming skills regarding the game.
With his streams, Niklas has received so many donations and has a culled list of the top sixty donations he has received so far. Fans are into his content and are always ready to learn a thing or two during his streams. Apart from streaming, Wagamama is a co-caster for The International three and five, which are professional tournaments.
Gorgc
Talking of pro players, Gorgc cannot miss on the list. Gorgc, also known as Janne Stefanovski, is a widely regarded Dota 2 professional player. Going by the alias Gorgc, Janne started his streaming journey on Twitch back in 2017, which became one of the safe spaces for the gamers who are ride-or-die fans of Dota 2. Ever since Gorgc has grown his streaming platform and has gained so much traction on his streams. Before going solo, Gorgc embarked on his streaming journey with Singing, who is also a Dota 2 streamer.
Gorgc is a fun, knowledgeable, and skilled player and now streamer who strives to keep his fans entertained and thrilled through his alible content. He has an attractive personality that fans like. Besides, Gorgc knows how to interact with his audience and how to keep fans engaged. He discusses Dota 2 on his streams and talks of other games as well.
He also casts third-party or DPC tournaments. Another reason Gorgc is on the top five list of the Dota 2 streamers of all time is that he invites guests to his streams mostly when he is casting game tournaments such as MidOne and SumaiL. He streams for about 8 hours a day on Twitch, and his 572k followers are a confirmation that he is one of the best Dota 2 streamers.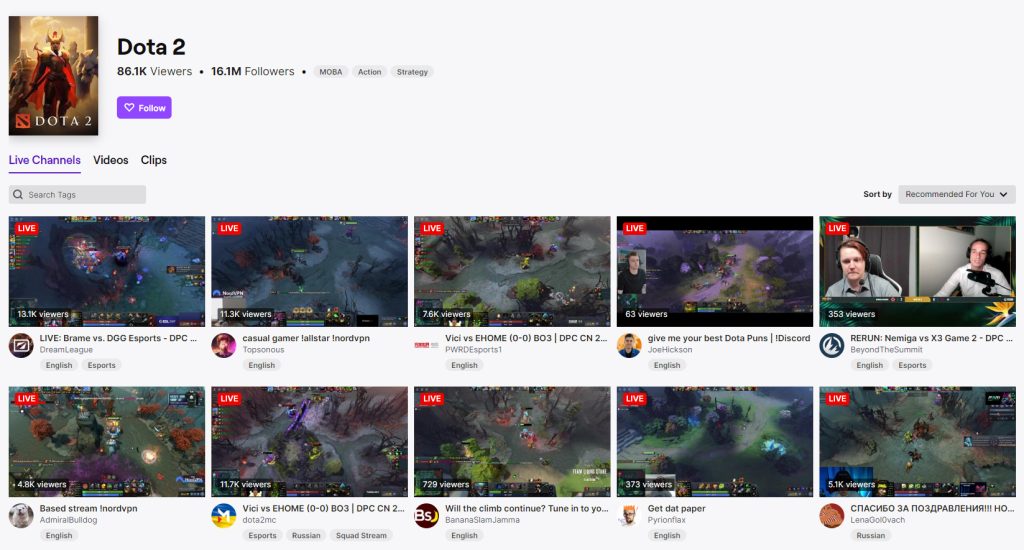 Bottom Line
Dota 2 has been on the leaderboard as one of the most popular and played games in the world. Some of the incredible professional players linked with the game have now become streamers of the game, with some doing it as a full-time job while others as a part-time thing. Some of the well-known streamers who have made it to the list of top five are Gorgc, Wagamama, AdmiralBulldog, Singing, and Dendi. However, the list of best streamers is endless, and mentioning all the streamers would take a lifetime but above is a gist of what you need to know about the top streamers.